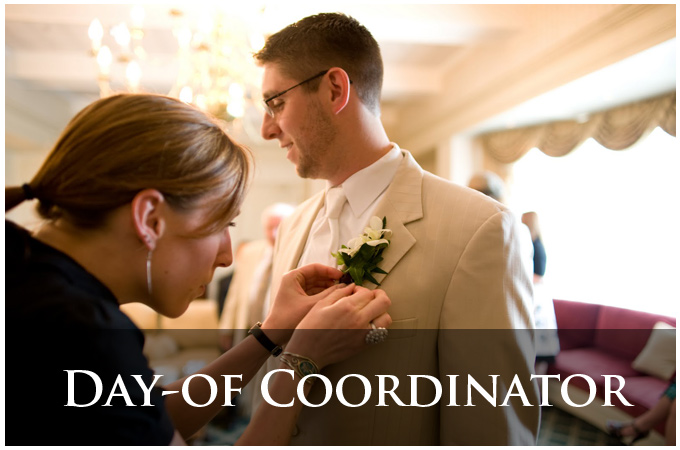 Many couples will select a family member or close friend to head to the venue site on the day of the wedding. However, think about is this person in the wedding party or not (usually they are). Do they really have time for last minute running around?
The venue you have selected most likely has a catering manager who can act as an event coordinator, but he or she will not be YOURS personally. Many hotels and venues often have more than one wedding running at the same time. It is very unlikely that the on-site event catering manager can take care of smaller details such as placement of favors, the cake knife, etc… Their main concern is that the food and beverage and floor plan has been been provided as per your specifications.
Many companies or individuals offer a "day-of-wedding coordinator". They will be with you from the early morning making sure the girls and guys are getting ready and the vendors are on time with their services. They will head over to the venue site and ensure all details have been met. Floor pan will be checked, favors will be placed out, seating cards and table numbers are arranged, cake knife, guest book, pen and bride and groom glasses in place.
They will ensure the wedding cake and band or DJ have arrived and are set up in a timely manner. The day-of coordinator will remain at the reception site to ensure all details have been met and trouble shoot any issues that may arise. They can work as the liaison on the night of the reception with the floor manager on timing of receiving line, dinner, speeches and late night sweet table. They will remain with you until the end of the night helping you pack up your items.
If you choose this, you won't have to worry about asking someone to take care of any of these details, so the bridal party and family can just relax and get ready for the big day. A wedding is one of the most important days of your life and you want everything to run smoothly and be as perfect as possible.
Depending on your budget, perhaps this is an expense you cannot afford. I will tell you, however, that the peace of mind you will have is worth the fee.