Believe it or not-
I have already done a photoshoot with my girls, designed our Christmas cards, received them, written hand-written notes in them, addressed and stamped. Yes, you read that right - for two weeks now, I have had my cards ready to go for this year! That is a record, even for me!
I love the whole tradition of holiday cards. I love checking the mail each day and finding notes, pictures, and pretty cards from my family and friends because we (like a lot of Americans) are spread all over the U.S. It almost like getting a hug long-distance. I've passed on that love and now my girls fight to see who gets to check the mail first! I love it!
Almost as much fun as getting cards is making them for others. I love what I do!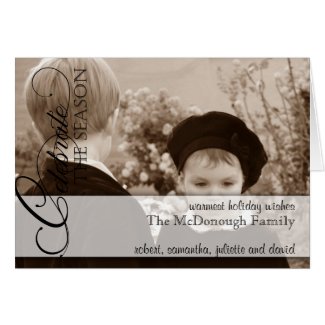 Celebrate the Season Photo Holiday Greeting Card
by
NoteableExpressions
This is one I made yesterday and it would look great with any style of photo but I love it with this sepia toned image. A beautiful card perfect for wishing your friends and family Merry Christmas. The background is a photo that you upload - it can be of you, your family, your kids, your pets or anything else you like. To the left side it says, "Celebrate the Season". Towards the bottoms is a faded white rectangle for a short greeting from you. The temp;ate is set up to read, "warmest holiday wishes - Your Family Name - Individual names" You can personalize it any way you like. Inside is a lovely greeting and your customizable text.
So what are your favorite traditions with Greeting cards? Do you still send them? Do you intentionally decorate with them? (I do!)