This new series called, Your Wedding: How to Plan and What Does it Mean? will be a series of articles giving you a 'quick reference' to keep handy - what happens first, who is invited to what, and who pays? Follow my blog to have easy access to all of them as they appear.
Prepare for Wedding Vendor Meetings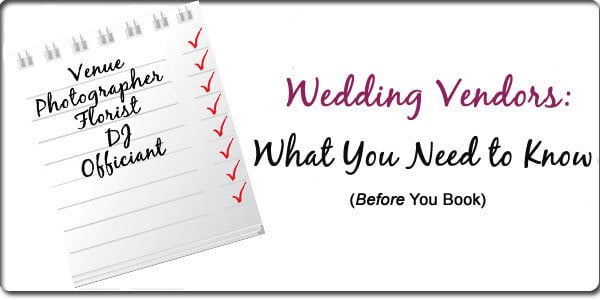 Want to get the most out of your meetings with vendors?
There are plenty of wedding vendors out there, but not just anyone will do. You need to find the right pro and negotiate for the best price so you can be sure that, when the big day comes, you'll get exactly what you want. These tips will help.
Set Your Budget and Style
Before you meet with a vendor, be sure that you've determined your total budget. Then, prioritize with your fiancé—if you're foodies, for example, you might spend more on dinner and cut back on flowers.
Next, you and your groom should discuss the style you envision. Will it be simple, minimalist floral arrangements or a lavish display? A sit-down dinner or chef-manned food stations? Even if you don't have a specific vision in mind, you should know your likes and dislikes. This is your event, and you want to make sure the vendor can carry out the job the way you want it done.
Comparison-Shop
For some vendors, especially photographers, you can call ahead to find out the fee for a package of services. For others (like florists) you'll need to meet with the pro and get a price quote for the services you decide upon. Either way, visit several vendors for each service to get an idea of their work and prices. Always check a vendor's reputation with the Better Business Bureau, and request the pro's references (and be sure to call them!).
Be sure to stick to your original plan. There's a vendor that is a perfect match for every couple. If you can't get what you want from a vendor in your price range, or if the person seems difficult to work with, keep shopping around.
Cover the Details
Once you decide to hire a vendor, discuss all the details of the services he or she will provide, and be sure you fully understand them. If you're purchasing a package, find out how many hours are covered, and whether there are any inclusions you haven't discussed, like free champagne in the limousine. Always ask about any extra fees before you put anything in writing—some caterers may add corkage or cake-cutting fees, for example.
When you're ready to sign on the dotted line, check that all the specifics are included on the contract—in as much detail as possible. The contract must include the date, time of delivery or arrival, number of hours of service and a description of the goods you're paying for. Also, be sure anything you don't want—say, carnations—is on there, too. That way, you'll know what to expect on the big day.
Avoid Rip-Offs
Putting On the Pressure:
A vendor may try to rush you into putting down a deposit by offering a "today only" deal, or telling you they're about to book up. Calmly explain that you need time to think it over. Don't make payments for anything unless you're sure you want it.
Making Nice:
Some sales people may act friendly just to make a sale. Don't buy a dress you're not completely in love with simply because the salesperson paid you a compliment. Shop around for a gown you know you love and that fits your budget.
Tacking On Charges:
A vendor may unexpectedly add a little extra to the price you've agreed upon and explain that it's for taking group photos at the tables, for example. Be nice but firm. Say you'd like to avoid paying the fee and ask to have it waived. You can bring up the fact that you can get a better rate elsewhere, if that's the case. Or say you'll pay for the additional shots, but you'd like some extra prints as well.
Book early, and you're more likely to get the vendors you want.
I feel terrible when someone contacts me two months before their date, saying they love my work and to ask me if I am available, and I have to say no. I seriously feel bad. In-demand wedding vendors (and isn't that who you want?) get booked for dates 6 months to a year in advance. For dates in the 'wedding season' (between May and September), they can be booked even earlier.
You'll Eliminate Stress
Do you really want put everything together at the last minute? While planning my own wedding a year in advance, there were enough problems just figuring out the logistics. And then little things always seem to come up at the last minute. Book early and get the stress out of the way. That way, if there are any problems or last-minute surprises, you can focus on those instead of having to worry about who is going to do your flowers, take your pictures, or marry you to one another!
You'll Spread Out Your Payments
Concerned about money? Think of booking early like using layaway – would you rather pay for the entire wedding all at once or spread out those payments over a year long period?
You'll Lock In Lower Rates
Once you book your vendors, you have locked them in at that rate. Wait six months, and they might be charging more money for their services.